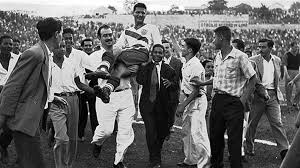 HALL OF FAME MUSEUM IN THE WORKS, NEED MEMORABILIA
The SEPA Soccer Hall of Fame is currently in negotiations with a local sports facility to initiate and bring to the area a one-of-a-kind soccer museum. Still early in the planning stages, this "Living Hall of Soccer" would bring together many different aspects of the game. The early goal is for the museum to be more than items on a wall, with emphasis placed on it being a catalyst for advancement of soccer in the area and for fostering increased understanding and participation.
One of our first steps is to accumulate soccer memorabilia to be displayed in the museum. The SEPA Soccer Hall of Fame will be providing much of its own collection, but the plan is for the museum to have a wide range of soccer interests represented. So this is where we need your help. Could you please check to see if you have any items that could be donated for possible inclusion in the museum? Some possible items could be classic photos, special awards, articles of clothing, documents of achievement, etc. These items do not necessarily have to be associated with our Hall of Fame. If you find something worth considering, please contact one of our board members:
Bob Kozlowski, President, bob.kozlowski@sepasoccerhall.com
Gordon Dunlop, Jr., Vice-President, gordopres2000@aol.com
Bob Ludwig, Secretary, robertludwig@comcast.net
We are committed to this project as the establishment of this museum fits perfectly with our Hall of Fame motto:  "Honoring the Past, Building the Future." Any help that you can provide would be greatly appreciated. Further information pertaining to the museum will be sent out as it is confirmed.